a taste of the LIVE AUCTION ITEMS:
"Fall in Love with Santa Ynez" - Bed and Breakfast package for wine lovers.
"Evening on the Bayou" - seafood dinner for 10 at your home.
"Tacos and Tunes" - Music and food for 30 friends featuring Misplaced Priorites & Los Gringos Locos.
"Dinner under the Bridge" - Enjoy a 5 course meal and watch our float come to life.
For the Art lovers...Levi Dorit's signed serigraph, "Staccato and Legato" is waiting for you.

a taste of the SILENT AUCTION ITEMS:
Fly-fishing for two on the Los Angeles River.
Learn to ride a horse!
Gift cards and baskets from lots of local businesses.
And so much more...
Purchase tickets through our secure order form.
$85/person or premium tables for #10/$1000

THANK YOU to our local Sponsors and Donors: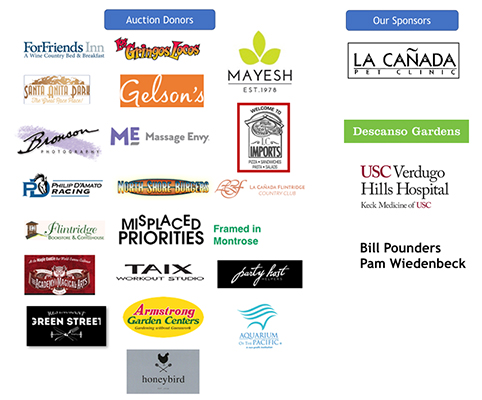 For Sponsorship and Donation opportunities please contact
Caroline Craven at 818-585-5660.

Thank you for your continued support of our beautiful float!